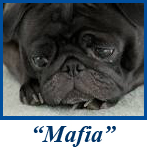 News Story, August 2010
Jeff Little, owner of "Sandy Paws Self-Service Dog Wash," saved the life of "Mafia" the pug last week, by performing Mouth-to-Snout resuscitation. Mafia, an excitable dog, stopped breathing and went limp during a grooming session. Jeff immediately sensed the dire condition and sprang into action. After a few minutes, Mafia started breathing on his own.
Mafia's owner rushed him down the street where he was examined and released by the Vet. He was diagnosed with Hypertension. The Vet stated that Jeff saved Mafia. The grateful owner sent Jeff flowers in gratitude.
Jeff was then featured on two local news programs, Fox 13 Tampa Bay and Bay News 9.
He is our hero!